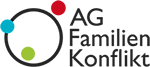 Learning from research
The German philosopher Karl Jaspers once said: "violence engenders violence". In doing so he highlighted a key problem in dealing with partner violence: how can we prevent violence-oriented behavioural patterns from being fostered in future generations?
Results from research have long since shown that violent conflict among parents and siblings often leads to a pattern of recurrence, when children have to bury the burden weighing on them deep inside themselves – either as episodes or a pattern that shaped their relationship to their parents through violence or lack of sensitivity. A deeper understanding of this has primarily been achieved by English-language researchers who combined research and practice in their efforts over the last two decades. The focus of this research has been on developing new methods of treatment to deal with the complex casues of partner violence.
---
Presentations, discussion and supervision groups with renowned scientists from Germany, the USA, Israel and the UK give you a unique opportunity to discover how their research can be of use to you in your counselling or therapeutic work.
---
Come and spend three inspirational and informative days in the relaxed atmosphere of the green and spacious Westend Campus at the Goethe University, Frankfurt. We will provide a full catering service and some entertaining moments of relaxation.
Target  audience
This congress is intended for the following professions:
Anyone active in family or couple counselling and in youth services
Child and youth psychiatrists
General practitioners
Psychotherapists
Psychologists
Consultants/counselors
and other associated professions
Presentation topics
Congress language is German. German presentations (2) will be simultaneously interpreted into English.
From re-education of offenders towards an analysis of partner dynamics
An exploration of men's experiences of violence and control
Gender, Risk, and the Role of Dyadic Process
Perspectives for practice, research und health politics
The multiple pathways between trauma, PTSD, and interpersonal violence
Can there be a universal response to partner and family violence?